As financial planners, we hear many of the same questions and concerns over and over again from our clients about their investments. Since the markets are having a wobble, the two we're hearing most often are:
• When should I invest?
• How much should I pay?
Chances are, if you're reading this and you have investments or are interested in investing, you're probably wondering the same things. So to help you out, Paddy Andrews, one of our Private Client Managers, has taken the time to give some detailed answers to the questions of the moment.
Question:
Markets are at "record" declines YTD. Should I wait and invest when they have settled?
Paddy's Answer:
All the evidence we have since the stock markets began informs us that stock markets regularly experience temporary declines. The important word here is temporary.
Stock markets recover from these temporary declines – Every. Single. Time.
In fact, if you were to watch the markets and analyse the statistics very closely, you would see that the average yearly temporary correction was 14%. That's overall growth.
Make sure you have a financial plan that sets out your investment time frame. If your financial plan tells you that you don't need your money in the next five years, then you should go ahead and invest it. Other than that, you should keep your money on deposit or somewhere similarly easy to access. This will also help you sleep at night! The last thing any investment should do is keep you awake.
S&P 500 over the last 5 years: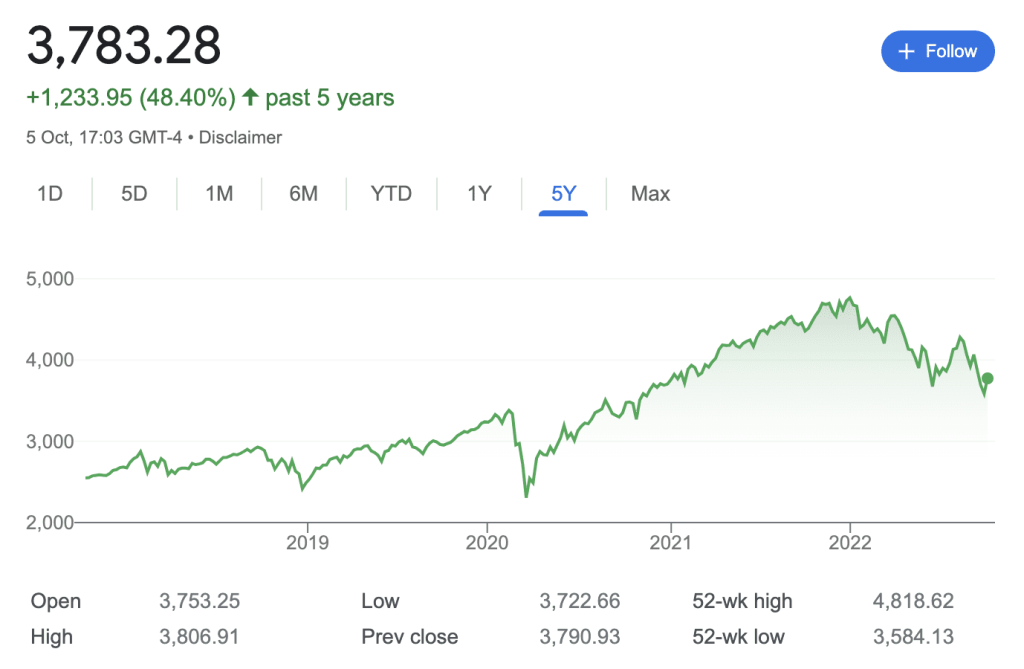 S&P 500 over last 5 days: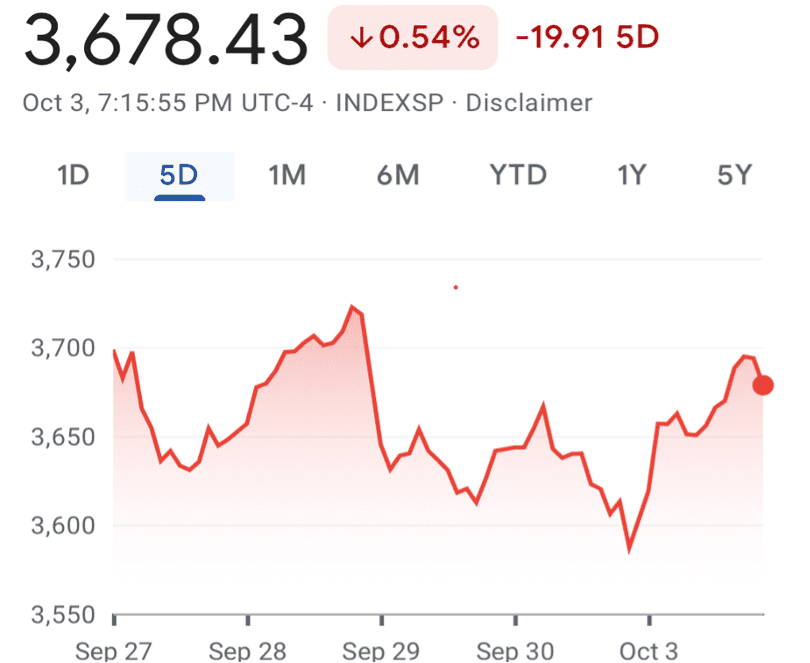 Question:
Do the costs really matter that much? Do most investment funds cost around the same anyway?
Paddy's Answer:
Costs matter. And it's a complex world designed to confuse the investor.
The regulators in every jurisdiction have much work to do to allow investors to compare the costs of various investments. There are so many different terms used, different ways of reporting, and confusing methods of disclosure. But make no mistake, the costs incurred by the investor have a massive impact over the long term.
Here's one quick example:
• Investment Option A attracts VAT on the charges.
• Investment Option B does not.
• Investment Option A can therefore be more expensive by 23%.
Think about this another way. You are going on a family holiday to the sun (now that the dreaded virus lockdowns have subsided). You have two options. They look very similar and both come recommended. Both holidays are priced at €5,000. Then you notice you must pay VAT on one of the options, bringing the total price to €6,150. The savvy sunseekers go with the holiday without the VAT if all other things are equal.
There are typically four costs that affect your investment. Yes, four! They are:
The cost of the platform or investment product
The cost of the fund(s)
The cost of the advisor
Tax – which includes VAT, CGT, Exit Tax.
The only way to compare is to get each broken down individually. And to further complicate matters, the cost of the funds can be unclear. Watch out for Annual Management Charge. It's a pointless disclosure. You want Total Expense Ratio (TER) or Ongoing Charges Figures (OCF). These tell you the real costs of investing.
If you're getting headache reading this, please forgive me I'm usually better craic than this I swear…
How can I navigate all this?

When it comes to investments, you're always better off consulting a professional. Get in touch with us at Metis Ireland by email on info@metisireland.ie or by telephone on 01 908 1500 to get started and learn how we could help you best manage your money in the long run.
Paddy Andrews
Private Client Manager

Disclaimer
Metis Ireland Financial Planning Ltd t/a Metis Ireland is regulated by the Central Bank of Ireland.
All content provided in these blog posts is intended for information purposes only and should not be interpreted as financial advice. You should always engage the services of a fully qualified financial adviser before entering any financial contract. Metis Ireland Financial Planning Ltd t/a Metis Ireland will not be held responsible for any actions taken as a result of reading these blog posts.