If you've ever worked with a financial planner or advisor, chances are you've been shown or sent a document titled KID or KIID in amongst all the other reams of paperwork and wondered what on earth it's for. Is it about children? Baby goats? Are they both the same thing?
Nay, it's an important piece of your journey. You should make a point of paying attention to it – especially since the way that this information is reported has recently changed.
What is a KID or KIID?
Both a Key Investor Information Document (KIID) and a Key Information Document (KID) are pre-contractual generic disclosure documents with the same objective – to inform retail investors of the main features of that product.
The KID is an updated version of the KIID. In January 2023, the European Union made an amendment to the legislation that sets out the requirements for what must be provided to clients and customers of investment products. This update is what introduced the KID in place of the KIID.
Does the new method change anything?
The result of this legislative update is that your Key Investor Information Document may change far more regularly. This is because there are more variables used in the classification (thus they are more accurate). We've seen one fund change their risk rating three times in one month on the new calculation method! Therefore, you can expect to see more communication from us about this.
Crucially, it's important to note that your funds have not changed. Rest assured that they're the same as they have ever been since we agreed your Metis LifePlan with you. It's only the method of calculating the risk rating that's changed and may look different to how it previously did.
What's the difference?
The main difference in the approaches is that the KIID used a backwards-looking methodology (historical data). Contrastingly, the KID uses a forward-looking methodology. They both operate on a scale of 1-7 but on a different methodology. Therefore, they cannot be directly compared.
Here's a summary of the differences between these two documents: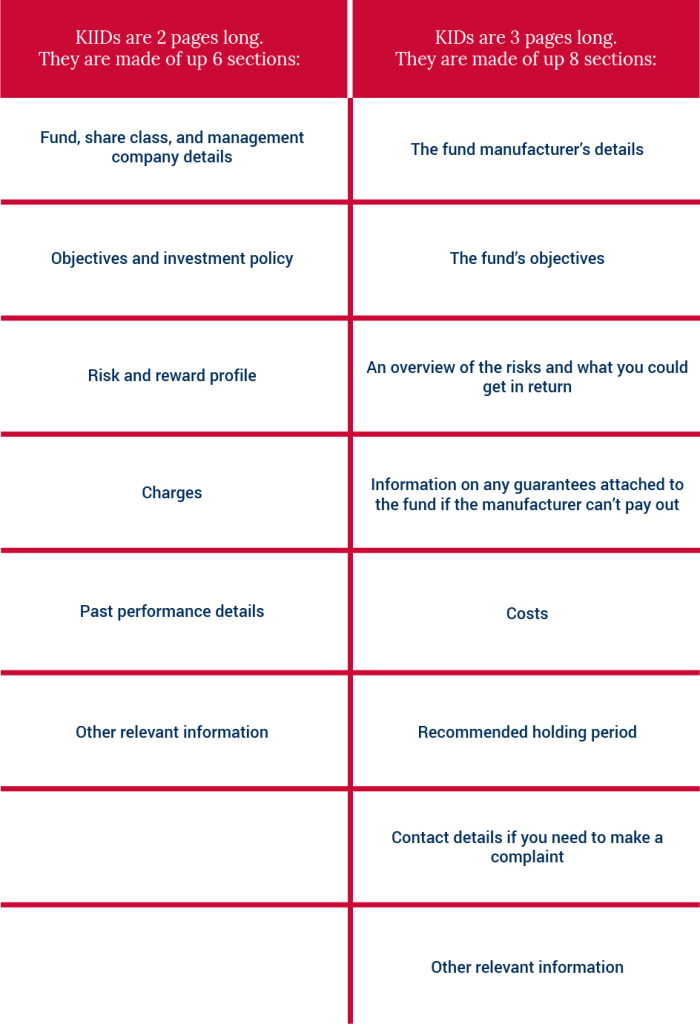 The Finer Details
The previous KIID used the Synthetic Risk and Reward Indicator (SRRI) as a measure of volatility of the fund's prices over the previous five years. If the actual SRRI differs from the published SRRI for a period of four months, the KIID must be updated and reissued.
The new KID uses a tool called the Summary Risk Indicator (SRI). This is designed to show the relative risk, using a combination of Market Risk (which is based on the historical price volatility) and Credit Risk (i.e., the risk of the issuer defaulting), where applicable.

The new KID documents may have a lower risk rating than previously, because of the different methodology. However, the lower risk number doesn't represent a real reduction in risk. It's merely the effect of a different risk calculation method.
What next?
If you've received an updated KID document from us and you're confused or concerned by any of the changes, please do get in touch with your Private Client Manager. We'll be more than happy to go through it with you.
You can also get hold of us by phone on 01 908 1500 or email us at info@metisireland.ie.
Financial Planner
Disclaimer
Metis Ireland Financial Planning Ltd t/a Metis Ireland is regulated by the Central Bank of Ireland.
All content provided in these blog posts is intended for information purposes only and should not be interpreted as financial advice. You should always engage the services of a fully qualified financial adviser before entering any financial contract. Metis Ireland Financial Planning Ltd t/a Metis Ireland will not be held responsible for any actions taken as a result of reading these blog posts.