The stock markets have been pretty volatile over the last few months.

Volatility is normal in the world of Stock Markets. The financial media love when temporary corrections happen as it provides "news" to comment on. The frustrating thing is that Stock Market declines tend to get much more coverage than flat or rising Stock Markets.

This was perfectly demonstrated over the last few weeks. The Stock Market suffered declines in the run up to 2018 year end, only to make a recovery in the first week of 2019. We didn't hear about the rally in Stock Markets nearly as much as we did about the temporary declines.
Now, we are not for second saying that the rally of that week will continue. As our clients know, we are always honest enough to say that we do not know what will happen next. However, we do advocate long term investing that is dictated by a long term financial plan. Therefore, it is always our mantra to advise our clients to #StickWithThePlan. So, if you do not want to read on any further, here's what you do now: NOTHING!


Stick With The Plan, always

The #StickWithThePlan mantra is not something that we have come up with just to suit this period of Market volatility. This is something that we have championed since Metis Ireland was born. For proof and if you have time on your hands, you should browse through the many Blogs and Vlogs that we have done on our "Ahead of The Curve" section of our blog.
Our investment philosophy is an Evidenced Based one. We use academic research to dictate the types of investment portfolios that we advise our clients to invest in. These are the same portfolios we invest in ourselves. It's tempting to provide lots of numbers and graphs to demonstrate why investors should do nothing right now. However, if you want to look at graphs and numbers, just Google "Market Volatility" or search the same term on Twitter. You'll find yourself down a rabbit hole with commentary from "experts" who will tell you they know what will happen next. Here's the thing – nobody knows what is going to happen next. Anyone saying otherwise is wrong.
You will find some great articles and graphs (on Twitter especially) from the likes of @ReformedBroker @RobinJPowell, @MavenAdviser, @hebdenconsulting, @awealthofcs, and @ClementsMoney.
These are the accounts we like to follow as we find that these folks have a similar outlook and philosophy on investing as we do at Metis Ireland.


You, and only you

An important point to remember is that your investment portfolios should be designed to meet your own personal goals. You can only do that if you have a personalised financial plan. We call it the Metis LifePlan. We then have an investment philosophy that helps us advise our clients and then in choppy waters. Our job is to "help keep our clients' feet to the fire of their best intentions". If you have heard me speak at any of our events recently you will know that this is a favourite quote of mine, courtesy of @TheMitchAnthony.
There are many great videos on the Metis Ireland Investment Philosophy here. We also have a short booklet called "Pursuing A Better Investment Experience" which you can request by emailing info@metisireland.ie.
The Emoji Guide to Investing

We came across this brilliant graphic recently which I think says it all when it comes to long term investing. Everyone is familiar with emojis these days, maybe some less so than others (I have to spend time deciphering messages from my kids that are entirely made of emojis. Sometimes it's like working out Morse Code!). But I think everyone will be able to relate to this: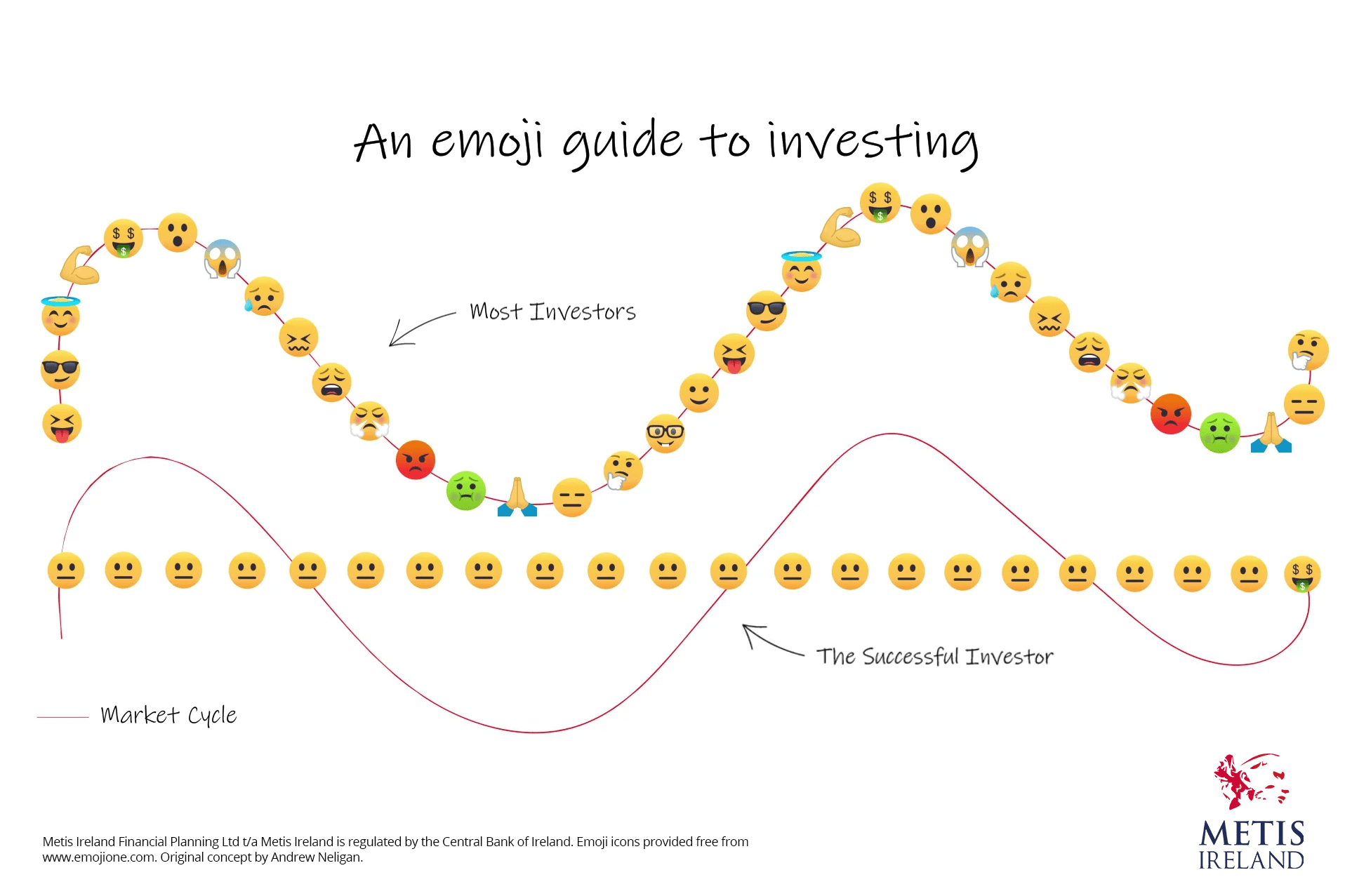 This demonstrates brilliantly the ongoing Stock Market Cycle. As investors for the long term, we all need to understand that Market Cycles have different phases. We also know that as emotional beings, it is much easier said than done to be the "Successful Investor" as illustrated above. But half of the battle is to understand the emotions that we go through when we are experiencing market volatility. We've got a brilliant video which illustrates this, too.


Behavioural Bias

Metis recently created a White Paper called "Making Better Decisions". We created it to try to help investors understand the Biases that can affect their decision making when it comes to their finances. We are very proud of this White Paper and we are happy to share it with you. You can download Making Better Decisions: Know Your Behavioural Biases in full today.


What next?

We were slow to actually do any commentary on the current market volatility because from our point of view, this is a perfectly normal phase for Stock Markets. However, we fully appreciate that as the emojis above show, even armed with the knowledge, it can be difficult to #StickWithThePlan. But this is exactly what you should do, assuming you have a long-term financial plan and you know why your investment portfolio is constructed as it is.
If you do not have a long term financial plan and your goal is to beat the market while not suffering losses, I'm afraid you are in for some sleepless nights. You'll also be paying fees, as changes to your investment portfolio will incur costs (whether you know that or not).
I hope that very few people reading this are in that situation. If you are, you need to find a Financial Planning firm like Metis Ireland who can create a long-term financial plan that will help you achieve your goals, dreams and aspirations. Or put it another way – what's the money for?
Carl Widger
Co-Founder & Managing Director
cwidger@metisireland.ie
Disclaimer
Metis Ireland Financial Planning Ltd t/a Metis Ireland is regulated by the Central Bank of Ireland.
All content provided in these blog posts is intended for information purposes only and should not be interpreted as financial advice. You should always engage the services of a fully qualified financial adviser before entering any financial contract. Metis Ireland Financial Planning Ltd t/a Metis Ireland will not be held responsible for any actions taken as a result of reading these blog posts.