Metis Ireland is delighted to introduce our very first lifestyle planning event for business owners and executives. Whether you're thinking about exiting your company in one, five, or ten years' time, the time to plan for it is now. And 'Future You' will help you do it.
Taking place on 5th and 6th September 2022, 'Future You' invites business owners, executives, and senior leadership members to spend some time in the inspiring surroundings of the Armada Hotel, Co. Clare, either alone or with your partner, as we lead you on a journey of discovery. We'll help you to map out your future, and understand how that fits into the future of your company. Because this isn't just about you – it's about the future success of your company too.
Your future in your hands
The two-day interactive planning event features an impressive line-up of knowledgeable and experienced speakers, cherry picked from among the finest and most qualified names in business in Ireland. Hosted by Metis Ireland's own Susan Walsh, it's sure to be a memorable and valuable couple of days.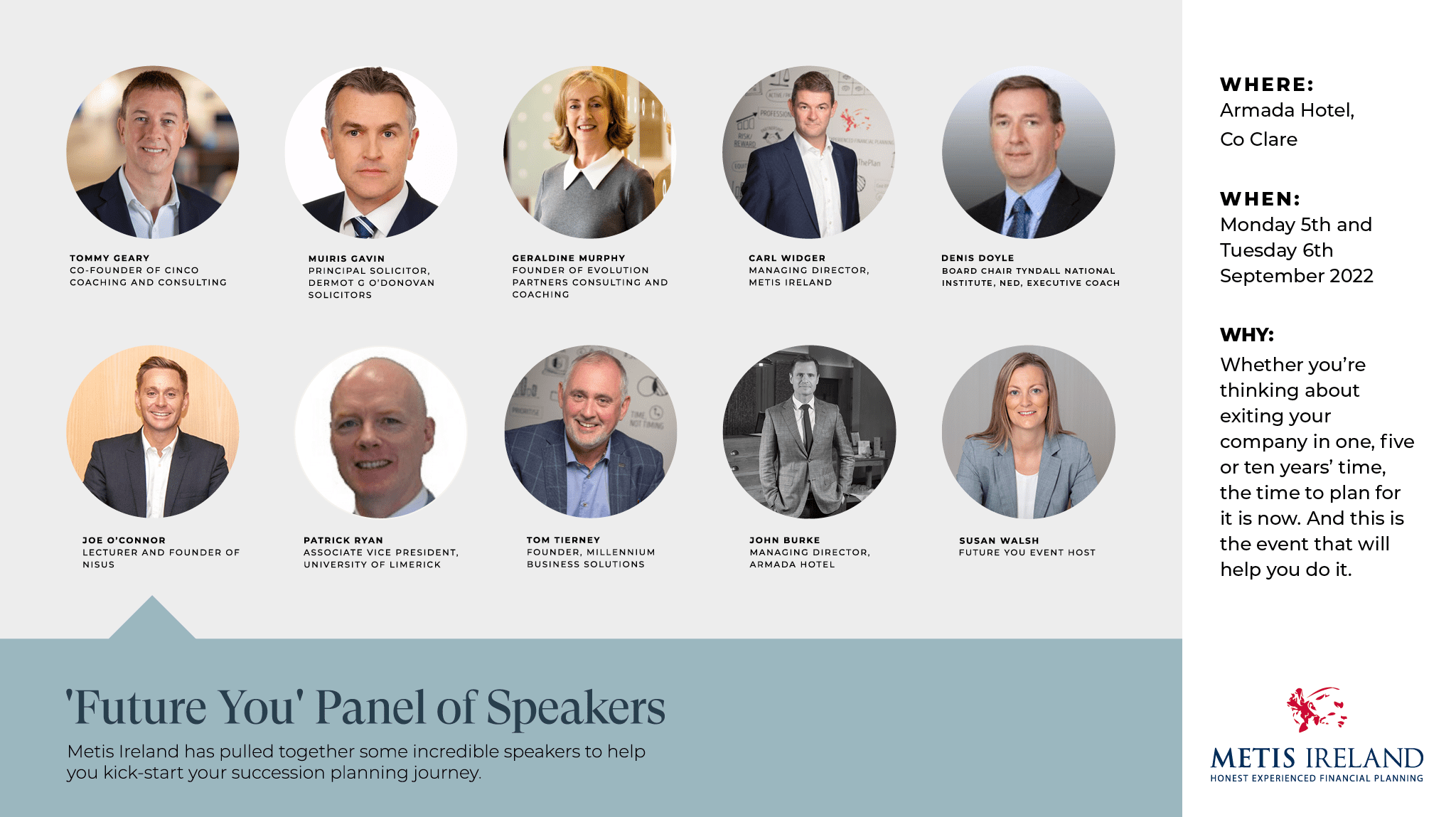 Succession planning doesn't happen by accident. It takes careful thought and vision. It takes collaboration and expertise. It takes time. This is a truly unique event that benefits both businesses and individuals alike.
What it offers business owners and executives
It's an opportunity to take time out to start planning for your future.
To speak to highly experienced people who have been where you are now and engage with experts on financial, lifestyle, wellbeing and legal matters.
To allow you time to think about your role and progression within the company – and how that will shape the years ahead for you and your family


What it offers companies
This is a unique opportunity to give your senior people the time to consider their family's future – and understand how your company fits into it.
To show you value your executive's contribution and care about their wellbeing.
To allow your valued people to engage with and develop your company's succession plan.
Giving your executives the peace of mind regarding their future so they can give their best to your company now.



This is one investment that's sure to reap dividends. It will help you and your family understand how you want your future to look and take away the emotional stress of the unknown. It will ensure your company is in a great position to grow and thrive, long after you've moved onto pastures new.

For full information about 'Future You' go to our booking page, where you can find the full brochure and details of how to get involved. Alternatively, you can get in touch directly with Susan Walsh, 'Future You' host and Private Client Manager at Metis Ireland, on swalsh@metisireland.ie.




Praise for 'Future You'

"Sometimes the most successful people don't get a chance to properly plan for their future – they are just too busy. An event like this could really help you to take a step back and consider what actions to put in place for when you want to get off that work 'treadmill.' Enjoy the here and now, but secure your future."
Tommy Geary, co-founder of Cinco Coaching and Consulting

"This event will be of huge benefit to any Senior Executive who is at a stage in life where they are planning for 'the third act', both in terms of their executive and personal development and fulfilment. I wish I had this opportunity two years ago!"
Geraldine Murphy, founder of Evolution Partners Consulting and Coaching

"Having been part of a management team where every day was full-on with 100% focus on the business and shareholders, very little time was available for considering my plans. An event like this would have been a welcome aid."
Tom Tierney, Founder of Millennium Business Solutions




Disclaimer

Metis Ireland Financial Planning Ltd t/a Metis Ireland is regulated by the Central Bank of Ireland.

All content provided in these blog posts is intended for information purposes only and should not be interpreted as financial advice. You should always engage the services of a fully qualified financial adviser before entering any financial contract. Metis Ireland Financial Planning Ltd t/a Metis Ireland will not be held responsible for any actions taken as a result of reading these blog posts.