#MetisMusicForMentalHealth
Six Months On and with Six Months To Go
From Someone who was there!
On a Friday evening in January shortly after the Christmas period there was a buzz on the Dock Road in Dolans Warehouse where there was a special event being held in what probably is one of the toughest times of the year for a lot of people.
Introducing #MetisMusicForMentalHealth an initiative of Metis Ireland a Financial Planning Firm based in the iconic Red Church on Henry Street, Limerick.
The original idea was to hold an event for two very important and local charities; Mid-West Pieta House and Limerick Suicide Watch and to focus the attention on Mental Health and the issues a lot of people are facing today.
What a better way to do this than through the power of music and to tap into the local talent that Limerick has to offer.
After months of chats and coffee's Karl Daly of Metis Ireland had put together a superb line-up and I can tell you it was as impressive as any national music event around.
Not only that but the financial backing from a large number of Limerick based firms both indigenous and multi-national had been secured and it meant the charities were in for a tidy sum to help them continue their work. It also ensured a packed venue.
Karl was MC for the night and the show ran superbly with an enthusiastic audience in Dolans to add to the atmosphere.
Aoife McLoughlin opened the show with her powerful voice followed by Stray Saints led by then Limerick Chamber CEO James Ring, Fox Jaw with their original rock sound, up and coming and taking over the world Emma Langford, Nile St. James (who's doing much the same) and surprise 'Special Guests' who were NOT to be revealed until the very end.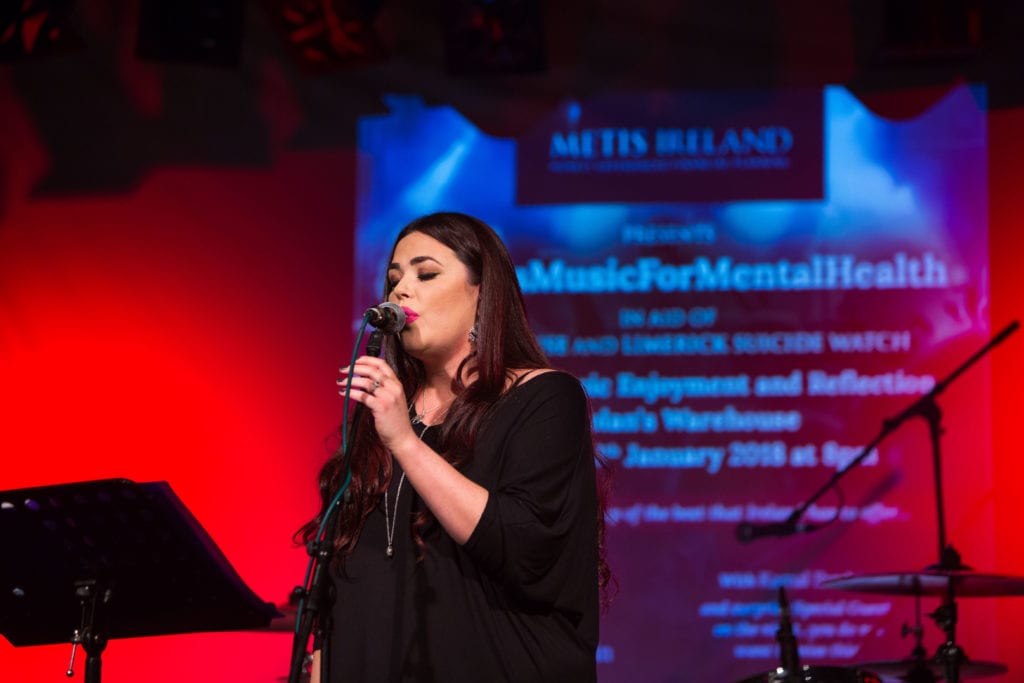 All artists on the night appeared free of charge as the topic of Mental Health was as close to their hearts as it was to Metis Ireland and the kind people of Dolans chipped in by giving the venue for the cause.
The main theme was however the problem that is "Mental Health" and to raise some awareness of the work being done locally to help. The event supported Limerick Suicide Watch and Pieta House and the charities had representatives at the concert to take part and do a little piece on the work they carry out each day.
Limerick Suicide Watch
Limerick Suicide Watch patrol our bridges even on the coldest of nights throughout the year. Their purpose is to intervene directly with any person who is seeking help or threatening suicide and unfortunately this is an all too often occurrence. Currently patrolling Monday, Tuesday, Thursday and Saturday nights, their vision is to patrol 7 days a week.
Sarah Counihan spoke passionately on stage, about the hard work each volunteer puts in with a three-month training process before becoming an official volunteer and taking to the bridges patrolling for a minimum of three nights a month. Showing her appreciation of her team each volunteer that was present on the night was called out by name and brought to the front of the stage for recognition and to a massive round of applause. There was a lot of emotion in the air but the good people of Limerick got to hear about this vital work and how important it is to benefit from nights like this.
Pieta House was represented by Johnny Togher who spoke about the importance of support for people under mental pressures and the services on offer from Pieta House to people to help alleviate suicide attempts or tendencies. Pieta House provides a free, therapeutic approach to people who are in suicidal distress and engaging in self-harm. Through their services they show that the stigma of Mental Health has been replaced by hope, self-care and acceptance. The words "ITS OK NOT TO BE OK" became the theme of the night.
Kamal Ibrahim (Irish television presenter, film, theatre producer and public speaker) joined us on the night to show us his recent production which told the story of a young man and young woman living lives under duress. This short movie was an absolute showstopper and emotions came to the fore when the outcomes of their lives were revealed. It was highly provocative but got the message right to everyone's heart.
So, I know you are still wondering who were the 'Special Guests'…. As Dan Murphy and Dermot Sheedy from Hermitage Green took to the stage, the crowd started screaming. They were then joined by Emma, Nile and Cian Daly and as the music started the sounds of a very familiar tune from a legendary Limerick band took over the air waves in the Warehouse. This was confirmed as a special moment when Noel Hogan appeared to complete the line-up of the "Greenberries". This band formed for "one night only" rocked the warehouse and to say the audience were at fever pitch is no exaggeration. What a finish to an incredible night.
This event would not have been possible without the support of certain companies in Limerick who donated towards our charities and attended on the night. Special thank you from Metis Ireland goes to ActionPoint, Atlantic Aviation, CPL, Cube Printing, HOMS, Kirby Engineering, Limerick Chamber, Limerick Tutorial College, Millenium Business Solutions, Northern Trust, Rigid Containers and Power Insurances.
Huge thanks also to the team at Metis Ireland for putting in the effort, to the people at Dolans and a special thanks to John Daly who was stage manager on the night and whose work over the months leading to the gig ensured an event that would put a Swiss clock to shame…Thanks John.
#MetisMusicForMentalHealth took place on January 12th 2018 raising over €16,500 of which every cent went to the chosen charities equally and Metis Ireland is looking forward to doing it all again. January 11th 2019 in Dolans Warehouse is the aim with a lot more surprises in store!! It was a wonderful evening with wonderful talent and most of all huge local support.
Thank you to everyone who came along on the night and we look forward to welcoming you back in 2019 –
Put it in the Calendar Folks!!
#MetisMusicForMentalHealth


Photos: Oisin McHugh True Media
Disclaimer
Metis Ireland Financial Planning Ltd t/a Metis Ireland is regulated by the Central Bank of Ireland.
All content provided in these blog posts is intended for information purposes only and should not be interpreted as financial advice. You should always engage the services of a fully qualified independent financial adviser before entering any financial contract. Metis Ireland Financial Planning Ltd t/a Metis Ireland will not be held responsible for any actions taken as a result of reading these blog posts